$35.00
AUD
Category: Philosophy
The Sunday Times Bestseller and New York Times Bestseller. A book of hope for uncertain times. 'Feeling a little blue? Meet the new Winnie the Pooh.' The Daily Mail 'A wonderful work of art and a wonderful window into the human heart' Richard Curtis Enter the world of Charlie's four unlikely friends, di scover their story and their most important life lessons. The conversations of the boy, the mole, the fox and the horse have been shared thousands of times online, recreated in school art classes, hung on hospital walls and turned into tattoos. In Charlie's first book, you will find his most-loved illustrations and some new ones too.     ...Show more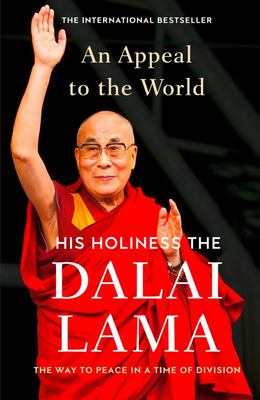 $12.99
AUD
Category: Philosophy | Series: G - Reference, Information and Interdisciplinary Subjects Ser.
In An Appeal to the World, His Holiness the 14th Dalai Lama of Tibet illuminates the way to peace in our time, arguing for a form of universal ethics that goes beyond religion - values we all share as humans that can help us create unity and peace to heal our world. THE INTERNATIONAL BESTSELLER 'I see w ith ever greater clarity that our spiritual well-being depends not on religion, but on our innate human nature, our natural affinity for goodness, compassion and caring for others' In this urgent 'appeal to the world', His Holiness the Dalai Lama addresses our time of division, calling on us to draw upon the innate goodness of our shared humanity to overcome the rancour, mistrust, and divisiveness that threaten world peace and sustainability. Working with trusted collaborator Franz Alt, the Dalai Lama calls on the better angels of our nature to tackle a wide range of contemporary issues, from war, violence and intolerance to climate change, global hunger and materialism. Applying the techniques and teachings of Tibetan Buddhism - from listening and contemplation to meditation and nonviolence - His Holiness provides a roadmap forward.Brief yet profound, An Appeal to the World is an inspiring message of love and optimism that can truly change the world. ...Show more
The Tao of Pooh
by Benjamin Hoff (illus Ernest H Shepard)
$22.99
AUD
Category: Philosophy
"Thought-provoking and charming."-- "Library Journal" Not all Great Masters of Wisdom are venerable graybeards. One is as familiar to us as that beloved teddy bear Winnie the Pooh. From the "how" of Pooh to the Tao of Pooh is a simple, effortless, joyous step...a delicious journey to Pooh Corner illumin ated by the timeless teachings of the Taoist immortals. ...Show more
$29.99
AUD
Category: Philosophy
From Pulitzer Prize-finalist Steven Nadler, an engaging guide to what Spinoza can teach us about life's big questions   In 1656, after being excommunicated from Amsterdam's Portuguese-Jewish community for "abominable heresies" and "monstrous deeds," the young Baruch Spinoza abandoned his family's impo rt business to dedicate his life to philosophy. He quickly became notorious across Europe for his views on God, the Bible, and miracles, as well as for his uncompromising defense of free thought. Yet the radicalism of Spinoza's views has long obscured that his primary reason for turning to philosophy was to answer one of humanity's most urgent questions: How can we lead a good life and enjoy happiness in a world without a providential God? In Think Least of Death, Pulitzer Prize-finalist Steven Nadler connects Spinoza's ideas with his life and times to offer a compelling account of how the philosopher can provide a guide to living one's best life.   In the Ethics, Spinoza presents his vision of the ideal human being, the "free person" who, motivated by reason, lives a life of joy devoted to what is most important--improving oneself and others. Untroubled by passions such as hate, greed, and envy, free people treat others with benevolence, justice, and charity. Focusing on the rewards of goodness, they enjoy the pleasures of this world, but in moderation. "The free person thinks least of all of death," Spinoza writes, "and his wisdom is a meditation not on death but on life.   An unmatched introduction to Spinoza's moral philosophy, Think Least of Death shows how his ideas still provide valuable insights about how to live today. ...Show more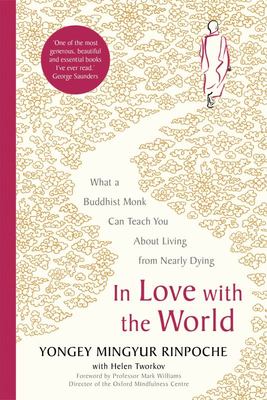 In Love With the World
by Yongey Mingyur Rinpoche; Mark Williams (Foreword by); Helen Tworkov (As told to)
$32.99
AUD
Category: Philosophy
A rare, intimate account of a world-renowned Buddhist monk's near-death experience and the life-changing wisdom he gained as a result. 'One of the most inspiring books I have ever read.' Pema Chödrön, author of When Things Fall Apart Yongey Mingyur Rinpoche's experience begins the night he has chosen to embark on a four-year wandering retreat, slipping past the monastery gates. Alone for the first time in his life, he sets out into the unknown. His initial motivation is to step away from his life of privilege and to explore the deepest, most hidden aspects of his being, but what he discovers throughout his retreat - about himself and about the world around us - comes to define his meditation practice and teaching. Just three weeks into his retreat, Rinpoche becomes deathly ill and his journey begins in earnest through this near-death experience. Moving, beautiful and suffused with local colour, Wandering is the story of two different kinds of death: that of the body and that of the ego, and how we can bridge these two experiences to live a better and more fulfilling life. Rinpoche's skilful and intimate account of his search for the self is a demonstration of how we can transform our dread of dying into joyful living. Published in the US as In Love with the World: A Monk's Journey Through the Bardos of Living and Dying ...Show more
$34.99
AUD
Category: Philosophy
From the bestselling authors of The Daily Stoic comes an inspiring guide to the lives of Stoicism's greatest practitioners. For millennia, Stoicism has been the ancient philosophy that attracts those who seek greatness, from athletes to politicians and everyone in between. And no wonder: its embrace of self-mastery, virtue and indifference to that which we cannot control has much to offer those grappling with today's chaotic world. But who were the Stoics?In this book, Ryan Holiday and Steohen Hanselman offer a fresh approach to understanding Stoicism through the lives of the people who practiced it. Through short biographies of all the famous, and lesser-known, Stoics, this book will show what it means to live stoically, and reveal the lessons to be learned from their struggles and successes. The result is a treasure trove of insights for anyone in search of living a good life. ...Show more
$22.99
AUD
Category: Philosophy | Series: G - Reference, Information and Interdisciplinary Subjects Ser.
An internationally bestselling fable about a spiritual journey, littered with powerful life lessons that teach us how to abandon consumerism in order to embrace destiny, live life to the full and discover joy. * This inspiring tale is based on the author's own search for life's true purpose, providing a step-by-step approach to living with greater courage, balance, abundance and joy. * It tells the story of Julian Mantle, a lawyer forced to confront the spiritual crisis of his out-of-balance life: following a heart attack, he decides to sell all his beloved possesions and trek to India. On a life-changing odyssey to an ancient culture, he meets Himalayan gurus who offer powerful, wise and practical lessons that teach us to: - Develop joyful thoughts- Follow our life's mission- Cultivate self-discipline and act courageously- Value time as our most important commodity- Nourish our relationships- Live fully, one day at a time ...Show more
$14.95
AUD
Category: Philosophy
This text is a physician's poignant and insightful account of the mutual holy ground that both physician and patient touch as they encounter the mysteries of life and death together.
$29.99
AUD
Category: Philosophy | Series: Princeton ANZ Paperbacks Ser.
From the celebrated author of American Philosophy: A Love Story and Hiking with Nietzsche, a compelling introduction to the life-affirming philosophy of William James In 1895, William James, the father of American philosophy, delivered a lecture entitled "Is Life Worth Living?" It was no theoretical que stion for James, who had contemplated suicide during an existential crisis as a young man a quarter century earlier. Indeed, as John Kaag writes, "James's entire philosophy, from beginning to end, was geared to save a life, his life"?and that's why it just might be able to save yours, too. Sick Souls, Healthy Minds is a compelling introduction to James's life and thought that shows why the founder of pragmatism and empirical psychology?and an inspiration for Alcoholics Anonymous?can still speak so directly and profoundly to anyone struggling to make a life worth living. Kaag tells how James's experiences as one of what he called the "sick-souled," those who think that life might be meaningless, drove him to articulate an ideal of "healthy-mindedness"?an attitude toward life that is open, active, and hopeful, but also realistic about its risks. In fact, all of James's pragmatism, resting on the idea that truth should be judged by its practical consequences for our lives, is a response to, and possible antidote for, crises of meaning that threaten to undo many of us at one time or another. Along the way, Kaag also movingly describes how his own life has been endlessly enriched by James. Eloquent, inspiring, and filled with insight, Sick Souls, Healthy Minds may be the smartest and most important self-help book you'll ever read. ...Show more
$30.95
AUD
Category: Philosophy
What do sex doll sales, locust swarms and a wired-brain pig have to do with the coronavirus pandemic? Everything—according to that "Giant of Lubliana," the inimitable Slovenian philosopher Slavoj i ek. In this exhilarating sequel to his acclaimed Pandemic!: COVID-19 Shakes the World, i ek delves into so me of the more surprising dimensions of lockdowns, quarantines, and social distancing—and the increasingly unruly opposition to them by "response fatigued" publics around the world. i ek examines the ripple effects on the food supply of harvest failures caused by labor shortages and the hyper-exploitation of the global class of care workers, without whose labor daily life would be impossible. Through such examples he pinpoints the inability of contemporary capitalism to safeguard effectively the public in times of crisis. Writing with characteristic daring and zeal, i ek ranges across critical theory, pop-culture, and psychoanalysis to reveal the troubling dynamics of knowledge and power emerging in these viral times. ...Show more
$29.99
AUD
Category: Philosophy
'A truly transformative read' Sunday Times STYLE 'More than ever, we need books like this' Jessica Seaton, Co-Founder of Toast and author of Gather, Cook, Feast A whole new way of looking at the world - and your life - inspired by centuries-old Japanese wisdom. Wabi sabi ("wah-bi sah-bi") is a captiv ating concept from Japanese aesthetics, which helps us to see beauty in imperfection, appreciate simplicity and accept the transient nature of all things. With roots in zen and the way of tea, the timeless wisdom of wabi sabi is more relevant than ever for modern life, as we search for new ways to approach life's challenges and seek meaning beyond materialism. Wabi sabi is a refreshing antidote to our fast-paced, consumption-driven world, which will encourage you to slow down, reconnect with nature, and be gentler on yourself. It will help you simplify everything, and concentrate on what really matters. From honouring the rhythm of the seasons to creating a welcoming home, from reframing failure to ageing with grace, wabi sabi will teach you to find more joy and inspiration throughout your perfectly imperfect life. This book is the definitive guide to applying the principles of wabi sabi to transform every area of your life, and finding happiness right where you are. ...Show more
$9.99
AUD
Category: Philosophy | Series: Great Philosophers Ser.
'If you put me to death,' Socrates warned his Athenian judges, 'you will not easily find anyone to take my place.' So indeed it would prove, a single cup of hemlock robbing the western philosophical tradition of its founding father. Yet Socrates' influence was not so easily to be done away with. His wo rds were lovingly recorded by his devoted disciple Plato, and his teachings have survived for twenty-seven centuries. His sense of education as self-discovery and his view of philosophy as preparation for life have been the stuff of western thought at its best. So completely did Socrates embody these values, he was prepared to die in their defence. ...Show more