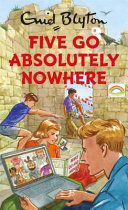 $19.99
AUD
Category: Humour
'Ah! This is the dream!' says Julian one morning. 'With good old British common sense and community spirit like this, there's no reason that we couldn't exist on the island like this for the rest of our days!' What could possibly go wrong . . .? Anne has gathered Julian, Dick, George and, of course, T immy, together for a last nostalgic jaunt in the countryside together before grown-up responsibilities take the four cousins off in different directions. It's only natural that they find their way onto Kirrin Island for a look around, as this might be the last time they're here together as a group. They are planning just to spend the night there and come home the next day, perhaps with a little exploring in the dungeon for old time's sake. But that night they hear the country has gone into lockdown. They are not allowed to leave. With their usual resourcefulness, they are determined to make the best of it, and remain cheerful and healthy. As Anne keeps saying: They're lucky, really, to have all this countryside and fresh air at their disposal!   ...Show more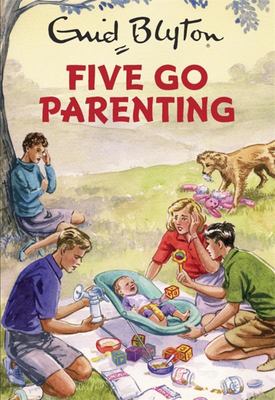 $19.99
AUD
Category: Humour
Enid Blyton's books are beloved the world over and The Famous Five have been the perennial favourite of her fans. Now, in this new series of Enid Blyton for Grown-Ups, George, Dick, Anne, Julian and Timmy confront possibly their toughest challenge yet: parenthood Bringing up a baby would surely be kid 's play for The Five. How hard could it possibly be?! When the doorbell rings one Saturday afternoon, the last thing the Five were expecting to find on their doorstep was a baby... But the Five are next of kin to Cousin Rupert and his wife, so when they find themselves in a spot of bother and are destined for a short spell behind bars, Anne, Dick, George and Anne are the first port of call. First, it's the fear and the tiredness that kicks in. They are terrified at being responsible for this new life and have no idea they're doing it right. Why is it crying? They use Dr Google constantly, who whatever the situation offers the same range of advice from 'don't worry about it' to 'rush her to the A&E'. 'Why is she crying?' they constantly ask. 'Why?' It keeps them up all night every night, until they are reduced to walking ghosts, haunted by a numb and impotent fury. Is this an adventure too far for our Five? ...Show more
$29.99
AUD
Category: Humour
Funny true stories about the everyday dramas that can make or break friendships, cooking, housekeeping and the domestic chaos that always threatens to get the upper hand, written in the tradition of Nora Ephron. 'A glorious account of how the little things of life are, of course, the big things' - Rich ard Glover 'Every failed domestic goddess will rock with laughter.' Shona Martyn My mother wasn't much of a housekeeper. She wasn't much of a cook either, although she tried. She longed to live a more unconventional life. Admirably high-minded, but it meant I never learnt to fold a towel. In these funny, sometimes poignant stories, award-winning feature writer Fenella Souter celebrates the highs and lows of domestic life - from her attempts to run the house like a grown-up, to lessons in good cooking; from accidentally killing her wisteria, divorcing the cat and shirt-fronting bossy tradies, to wondering if the 'hostess gift' is still a thing or why some people have impeccable taste. With their distinctive wit, they will leave you smiling with recognition at the everyday dramas and dilemmas that can make or break friendships and marriages, turn a house into a home, or let chaos get the upper hand. 'Chuck out all your self-help guides to gratitude, mindfulness and finding meaning. This book is all you need.' - Charlotte Wood 'Sweet, wise and very funny.' - Danny Katz   ...Show more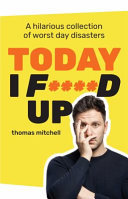 $24.99
AUD
Category: Humour
A toe curling, laugh out loud collection of worst day disasters.   I'd always rolled my eyes when people describe things as 'happening in slow motion'. Surely everything happens in regular time and it's only when you replay it in your head that it seems to slow down?But as the car lurched forward and I found myself sailing through the back of the garage, I finally understood what they meant.   When a trip to meet his new girlfriend's grandparents ends in disaster (think a crashed ute, an angry wasp and a cranky farmer with a shotgun), Thomas Mitchell knows one thing for sure: bad days make for great stories.   While we might not like to admit it, we can't help but find a sneaky pleasure in other people's misfortune. It's the reason fail compilations rack up millions of views on YouTube or television shows like Funniest Home Videos exist at all.   Deep down we're addicted to the downfall of our fellow humans, and if there was ever a point in history when we needed a laugh, it's now.   Today I F***D Up is a collection of tall tales but true that are equal parts hilarious and horrifying; a timely reminder that no matter how terrible things get, they could always be worse. So much worse.   ...Show more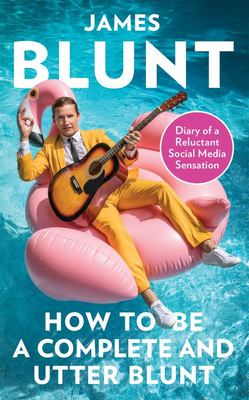 $24.99
AUD
Category: Humour
'Opinions are like arseholes - everybody has one' James Blunt, 6 December 2014 Once upon a time, James Blunt's most enduring legacy was a three-minute, thirty-second pop song about a girl he saw on the underground, and a nation's worth of abuse. But with the invention of Twitter, James found his real vo ice, and with it, the chance to reply with a simple 'up yours'. Now the King of Twitter has ascended to the heady heights of occasionally 'winning the internet'. Selected and introduced by James himself, this is a year in the life of the world's most reluctant social media sensation. Now learn for yourself how to be a complete and utter Blunt . . . ...Show more
$14.99
AUD
Category: Humour
A wickedly witty field guide to bookstore customers from the Person Who Doesn't Know What They Want (But Thinks It Might Have a Blue Cover) to the harried Parents Secretly After Free Childcare. It does take all kinds. If you visit bookshops more often than the grocery store, you'll recognize the types. There's the Expert (with subspecies from the Bore to the Helpful Person), the Young Family (ranging from the Exhausted to the Aspirational), Occultists (from Conspiracy Theorist to Craft Woman). Then there's the Loiterer (including the Erotica Browser and the Self-Published Author), the Bearded Pensioner (including the Lyrca Clad), the The Not-So-Silent Traveller (the Whistler, Sniffer, Hummer, Farter, and Tutter), and the Family Historian (generally Americans who come to Shaun's shop in Wigtown, Scotland). Two bonus sections include Staff and, finally, Perfect Customer -- all from Shaun Bythell (author of Confessions of a Bookseller), the funniest sell-and-tell observer in the house of books. This is the perfect read for anyone who ever felt a bookstore was home. You've been spotted! Or have you?   ...Show more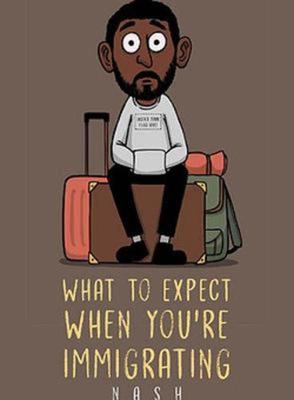 $19.99
AUD
Category: Humour
Through brilliant, tongue-in-cheek illustrations depicting the panorama of migrant experiences, celebrated artist Nash Weerasekera provides a compelling, myth-busting, sometimes challenging and always funny 'how to' guide for new arrivals and those who welcome them.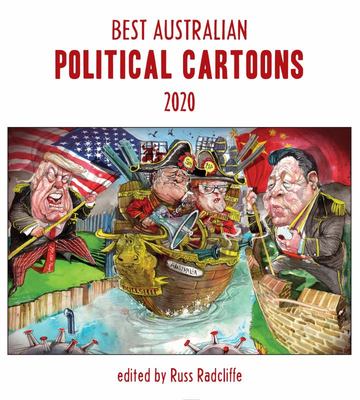 $32.99
AUD
Category: Humour | Series: Best Australian Political Cartoons Ser.
Welcome to 2020. Brexit, Trump, leadership challenges- those were the days. The Morrison government, after delivering its promised tax cuts, had only one thing on its policy mind- protecting its presumptive budget surplus. Sure, avoiding questions about such trifles as sports rorts, robodebt cock-ups, a nd water scams required an inordinate amount of energy. But, all in all, it must have seemed like a good time to take a holiday. Anyway, other people were on the fire hoses - terrified, exhausted, selfless - as south-east Australia gave us a glimpse of the looming slow-motion catastrophe of a rapidly heating world. Meanwhile, in a wet market in Wuhan, events were unfolding that would shake all our societies to the core and change our world forever. The mantle and burden of heroism was about to be passed to a new cast of ordinary people on a very different front line. Is this a time for joking? Too soon? Maybe we need the penetrating satirical intelligence and the dark, challenging humour of our political cartoonists more than ever. Featuring Dean Alston, Peter Broelman, Pat Campbell, Andrew Dyson, John Farmer, First Dog on the Moon, Matt Golding, Fiona Katauskas, Mark Knight, Jon Kudelka, Alan Moir, David Pope, David Rowe, Andrew Weldon, Cathy Wilcox, and many more ...   ...Show more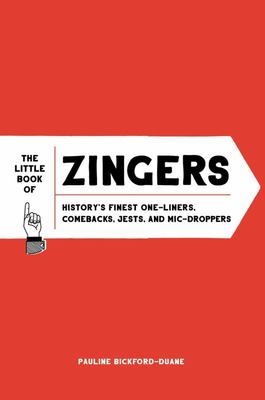 $16.99
AUD
Category: Humour
You know Mark Twain, creator of the long-beloved characters Huck Finn and Tom Sawyer, but have you heard what he said about Jane Austen? The Little Book of Zingers will feature the greatest comebacks and one-liners of all time, uttered by the iconic men and women we know and love (or love to hate) Every generation sees its fair share of geniuses: men and women who possess boundless intellect and are capable of incredible insight. S ren Kierkegaard was such a man. Widely considered the father of existential philosophy, Kierkegaard uttered such profundities as: "If I am capable of grasping God objectively, I do not believe, but precisely because I cannot do this I must believe." But on one truly momentous occasion, Kierkegaard made one confident and succinct statement that shook the earth: "My opponent is a glob of snot." Kierkegaard spoke of Hans Martensen, an academic with whom he'd had a fair share of disagreements. The two often went toe-to-toe in scholarly debate, but with this dynamite zinger, Kierkegaard ended all further discussion. After all, who expects to be called a glob of snot? There's no coming back from that. The Little Book of Zingers will explore the rich depths of crushingly hilarious salt-in-the-wound one-liners you've never heard that'll make you gasp at their audacity. From the Age of Enlightenment to the Roaring Twenties to the boogie-down seventies, The Little Book of Zingers will take readers on a journey through some of history's greatest burns, spoken by the men and women who shaped the world. ...Show more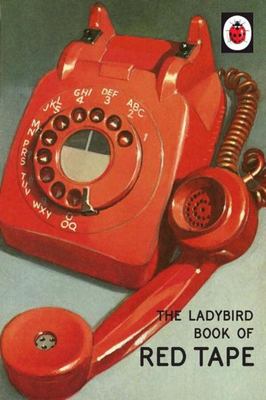 $19.99
AUD
Category: Humour | Series: The Ladybird Book of...
THE PERFECT GIFT for unshakable rule abiding colleagues. __________________________________ 'Your call is important to us, ' says the lady on the help-line. The call is important because it is currently making the company 48p per minute.' __________________________________ 'Sam has forgotten her passwor d so she cannot access her e-mail account. She can reset her password using a memorable name, but she has forgotten her memorable name too, so the account locks. Sam automatically receives a link so she can reset her password. It is sent to her e-mail account.' __________________________________ This delightful book is the latest in the series of Ladybird books which have been specially planned to help grown-ups with the world about them. The large clear script, the careful choice of words, the frequent repetition and the thoughtful matching of text with pictures all enable grown-ups to think they have taught themselves to cope. Featuring original Ladybird artwork alongside brilliantly funny, brand new text. 'Hilarious' Stylist Other new titles for Autumn 2017: How it Works: The Brother How it Works: The Sister The Ladybird Book of the Ex The Ladybird Book of the Nerd The Ladybird Book of the New You The Ladybird Book of Balls The Ladybird Book of the Big Night Out The Ladybird Book of the Quiet Night In People at Work: The Rock Star Previous titles in the Ladybirds for Grown Ups series: How it Works: The Husband How it Works: The Wife How it Works: The Mum How it Works: The Dad The Ladybird Book of the Mid-Life Crisis The Ladybird Book of the Hangover The Ladybird Book of Mindfulness The Ladybird Book of the Shed The Ladybird Book of Dating The Ladybird Book of the Hipster How it Works: The Student How it Works: The Cat How it Works: The Dog How it Works: The Grandparent The Ladybird Book of Red Tape The Ladybird Book of the People Next Door The Ladybird Book of the Sickie The Ladybird Book of the Zombie Apocalypse The Ladybird Book of the Do-Gooder ...Show more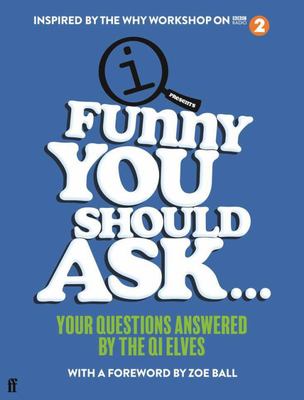 $24.99
AUD
Category: Humour
The QI Elves are the clever clogs behind the hit panel show QI. Every Wednesday the Elves appear on The Zoe Ball Breakfast Show's 'Why Workshop' where they answer the ponderings and wonderings of Radio 2's most inquisitive listeners. Funny You Should Ask features the QI Elves' answers to questions on to pics ranging from goosebumps to grapefruit, pizza to pirates and everything in-between. Generously sprinkled with extra facts from the Elves this is essential reading for the incurably curious. How much water would you need to put out the Sun? If spiders can walk on the ceiling why can't they get out of the bath? What's the point of snot? Why does my pizza taste so much better the next morning? Why do dads make such bad jokes? Why am I a capital letter and you're not? Why is there an Essex, a Wessex, a Sussex but no Nossex? Can I dig a tunnel to the other side of the Earth? Why aren't unicorns called unihorns? Do cats get goosebumps? When does a rock become an island? Why don't clouds freeze? Can I live forever? ...Show more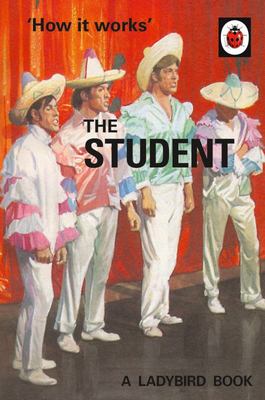 $14.99
AUD
Category: Humour | Series: Ladybird How It Works
The PERFECT GIFT for anyone yet to know the meaning of the words 'hard work'. __________________________________ This is a student. He is leaving home for the first time. By the time he graduates, he will be grown-up: exhausted, hideously in debt and unable to imagine going to bed sober. _______________ ___________________ Reynard has brought everything he needs for his first year. He unpacks his fancy-dress costumes, his four-way extension leads, his pair of pants and all his didgeridoos. By doing front, back, inside-out front, inside-out back, and using Febreze and Imodium, he plans to make his pants last until half term. __________________________________ This delightful book is part of a series of Ladybird books which have been specially planned to help grown-ups with the world about them. The large clear script, the careful choice of words, the frequent repetition and the thoughtful matching of text with pictures all enable grown-ups to think they have taught themselves to cope. Featuring original Ladybird artwork alongside brilliantly funny, brand new text. Other titles in the Ladybirds for Grown Ups series: How it Works: The Cat How it Works: The Dog How it Works: The Grandparent The Ladybird Book of the Meeting The Ladybird Book of Red Tape The Ladybird Book of the People Next Door The Ladybird Book of the Sickie The Ladybird Book of the Zombie Apocalypse How it Works: The Husband How it Works: The Wife How it Works: The Mum How it Works: The Dad The Ladybird Book of the Mid-Life Crisis The Ladybird Book of the Hangover The Ladybird Book of Mindfulness The Ladybird Book of the Shed The Ladybird Book of Dating The Ladybird Book of the Hipster ...Show more