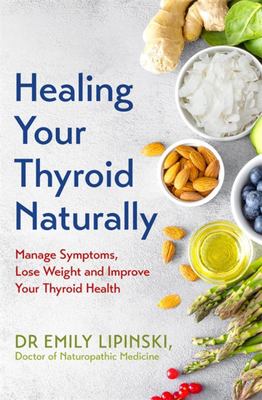 $34.99
AUD
Category: Health
Healing Your Thyroid Naturally is a no-nonsense guide about the impact of food and diets on healing your thyroid. Dr Emily Lipinski, a Doctor of Naturopathic Medicine, incorporates the latest research in thyroid health and provides easy dietary guidance to help you on your journey to thyroid balance. Wi th chapters such as 'The Iodine Debate', 'Food Sensitivities' and 'Going Gluten Free', Healing your Thyroid Naturally highlights many topics that are integral to understanding how food impacts thyroid health. Through her own journey with Hypothyroidism, Dr Emily Lipinski learned that healing the thyroid requires much more than just medication. Combining her medical background with her love of food and passion for natural approaches she has helped herself, and countless patients, to regain control over their thyroid problems. This is the book you need to empower you to improve your thyroid health. ...Show more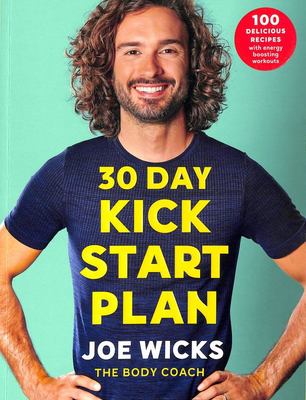 $39.99
AUD
Category: Health
Lacking motivation? Want to cook better, healthier food? Know what you should do, but don't know where to start? This 30-day plan from the nation's favourite PE teacher will help you create new habits, keep on track and feel brilliant inside and out. Food and fitness sensation Joe Wicks, aka the Body Coach, has helped millions of people to keep fit and cook healthy, simple recipes. He's back with his 30 Day Kick Start Plan to make it easier than ever before to motivate your weight-loss journey and get more active. Inside are one hundred delicious, sustaining recipes and six brand-new HIIT workouts to help you get in shape. Combined with weekly plans that can help you prep like a boss, this approach is easy to personalize according to your own day-to-day habits and will help everyone kick start a healthier lifestyle without looking back. The man who has kept the nation moving during lockdown, Joe has sold more than 3 million books in the UK alone. He has more than 4 million followers on social media, where fans share their personal journeys towards a leaner, fitter lifestyle. All of his books have been non-fiction number one bestsellers. ...Show more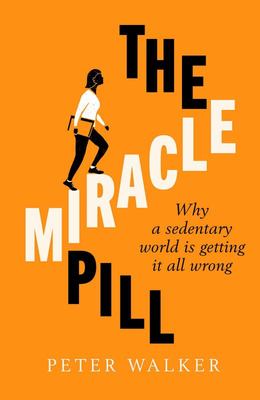 $32.99
AUD
Category: Health
We are bombarded with images of fitness and sport, everything from the sculpted torsos of reality TV shows to stories about cycle races and ultra-marathons. But at the same time, four in ten British adults, and 80% of children, are so sedentary they don't meet even the minimum recommended levels for mov ement. What's going on?  The answer is simple: activity became exercise. What for centuries was universal and everyday has become the fetishised pursuit of a minority, whether the superhuman feats of elite athletes, or a chore slotted into busy schedules. Yes, most people know physical activity is good for us.  And yet 1.5 billion people around the world are so inactive they are at greater risk of everything from heart disease to diabetes, cancer, arthritis and depression, even dementia. Sedentary living now kills more people than obesity, despite receiving much less attention, and is causing a pandemic of chronic ill health many experts predict could soon bankrupt the NHS. Scientists call activity 'The Miracle Pill' - if you could turn incidental daily movement into a drug, it would be the most valuable pill in the world.  How did we get here? Daily, constant exertion was an integral part of humanity for millennia, but in just a few decades movement was virtually designed out of people's lives through transformed workplaces, the dominance of the car, and a built environment which encourages people to be static. In a world now also infiltrated by ubiquitous screens, app-summoned taxis and shopping delivered to your door, it can be shocking to realise exactly how sedentary many of us are. A recent study found almost half of middle-aged English people don't walk continuously for ten minutes or more in an average month. At current trends, scientists forecast, the average US adult will expend little more energy in an average week than someone who spent all their time in bed.  This book is a chronicle of this very modern and largely unexplored catastrophe, and the story of the people trying to turn it around. But it also offers readers an empowering individual template for change - as well as, for some, a wake-up call that their lifestyle might not be quite as healthy as they believe.    ...Show more
$29.99
AUD
Category: Health
Informative and insightful, this is the essential family guide to preparing for ageing parents. This is a book that forces us to confront what most of us avoid - planning for our ageing parents. Our natural inclination is to wait and see what might happen. But when it does happen, or starts to unfold, w e, and our siblings, are totally unprepared. Poor decisions, disputes with siblings and partners and the destruction of relationships can be the aftermath. Brian should know, as a lawyer working in this area for over 20 years, he has dealt with the fallout from these failures in families. Avoiding the Ageing Parent Trap is packed full of ? practical strategies for dealing with family dynamics and managing financial and legal affairs. Including information and practical case studies to support families in their legal, financial and healthcare decision-making, this is an easy to read and ? commonsense guide from a leading elder care lawyer. His uses his hands-on experience and examples to demonstrate what to expect, and even better how to plan and prepare. A book that will help keep families together and achieve the best outcomes for parents. ...Show more
$32.99
AUD
Category: Health
A fascinating exploration of the intricacies of how we remember, why we forget, and what we can do to protect our memories, from the Harvard-trained neuroscientist and bestselling author of Still Alice. Have you ever felt a crushing wave of panic when you can't for the life of you remember the name of that actor in the movie you saw last week, or you walk into a room only to forget why you went there in the first place? If you're over forty, you're probably not laughing. You might even be worried that these lapses in memory could be an early sign of Alzheimers or dementia. In reality, for the vast majority of us, these examples of forgetting are completely normal. Why? Because while memory is amazing, it is far from perfect. Our brains aren't designed to remember every name we hear, plan we make, or day we experience. Just because your memory sometimes fails doesn't mean it's broken or succumbing to disease. Forgetting is actually part of being human. In Remember, neuroscientist and acclaimed novelist Lisa Genova delves into how memories are made and how we retrieve them. You'll learn whether forgotten memories are temporarily inaccessible or erased forever and why some memories are built to exist for only a few seconds (like a passcode) while others can last a lifetime (your wedding day). You'll come to appreciate the clear distinction between normal forgetting (where you parked your car) and forgetting due to Alzheimers (that you own a car). And you'll see how memory is profoundly impacted by meaning, emotion, sleep, stress, and context. Once you understand the language of memory and how it functions, its incredible strengths and maddening weaknesses, its natural vulnerabilities and potential superpowers, you can both vastly improve your ability to remember and feel less rattled when you inevitably forget. You can set educated expectations for your memory, and in doing so, create a better relationship with it. You don't have to fear it anymore. And that can be life-changing. Using her expertise as a neuroscientist and her gifts as a storyteller, Genova explains the nuances of human memory. As with her previous books, this is an engaging and edifying read.- Steven Pinker, Johnstone Professor of Psychology, Harvard University, author of How the Mind Works. 'No one writes more brilliantly about the connections between the brain, the mind, and the heart. Remember is a beautiful, fascinating, and important book about the mysteries of human memory, what it is, how it works, and what happens when it is stolen from us. A scientific and literary treat that you will not soon forget.' - Daniel Gilbert, Edgar Pierce Professor of Psychology, Harvard University, New York Times bestselling author of Stumbling on Happiness 'In Remember, Lisa Genova provides easy-to-follow, no nonsense advice on how to maximize one of the greatest outputs of your brain, memory. But, more important, she also lets us know that while memory is a tremendous gift, the real you is much more than just what you can remember! -  Rudolph E. Tanzi, PhD, professor of neurology, Harvard Medical School, coauthor of The Healing Self ...Show more
$22.99
AUD
Category: Health
Put an end to dieting and replace weight loss struggles with this easy approach to a healthy, plant-based lifestyle, from the bestselling author of How Not to Die. Every month seems to bring a trendy new diet or a new fad to try in order to lose weight - but these diets aren't making us any happier or healthier. As obesity rates and associated disease and impairments continue to rise, it's time for a different approach. How Not to Diet is a treasure trove of buried data and cutting-edge dietary research that Dr Michael Greger has translated into accessible, actionable advice with exciting tools and tricks that will help you to safely lose weight and eliminate unwanted body fat - for good. Dr Greger, renowned nutrition expert, physician, and founder of nutritionfacts.org, explores the many causes of obesity - from our genes to the portions on our plate to other environmental factors - and the many consequences, from diabetes to cancer to mental health issues. From there, Dr Greger breaks down a variety of approaches to weight loss, honing in on the optimal criteria that enable success, including: a diet high in fibre and water, a diet low in fat, salt, and sugar, and diet full of anti-inflammatory foods. How Not to Diet then goes beyond food to explore the many other weight loss accelerators available to us in our body's systems, revealing how plant-based meals can be eaten at specific times to maximize our bodies' natural fat-burning activities. Dr Greger provides a clear plan not only for the ultimate weight loss diet, but also the approach we must take to unlock its greatest efficacy. ...Show more
$32.99
AUD
Category: Health
For some, the idea of fasting by eating only one or two meals a day still sounds like an extreme and overly restrictive dieting tactic. But many of us already feel like victims to our daily eating schedule: three meals a day, plus snacks. Eat every few hours, we are told by the experts. This fixed eatin g schedule has become the norm. But the truth is this is an artificially constructed schedule that does not reflect our bodies natural and most optimal eating schedule. In fact, eating three meals a day causes metabolic inflexibility, which can easily lead to inflammation, weight gain, and disease. For millions of years, our bodies have actually functioned best by fasting. With his new approach to fasting, bestselling author and functional medicine expert Dr Will Cole gives us the ability to take control of our hunger and makes intermittent fasting intuitive. You'll get in touch with your instinctive eating patterns and become healthier and more mindful about how and when you eat. Intermittent fasting fosters metabolic flexibility and once you've reached metabolic flexibility, you can trust your body to function at optimal capacity, whether you've eaten six minutes ago or six hours ago. With his four-week fasting flexibility plan, Dr Cole will help you reset your body, recharge your metabolism, renew your cells and rebalance your hormones. He'll illustrate the most effective ways to fast and eat to amplify the health benefits of intermittent fasting, balancing rest and repair with clean, nutrient-dense, delicious foods. Along with sixty-five recipes, he also includes a maintenance plan, so you can adapt fasting and feeding windows to work with your lifestyle. 'If you're looking for a way to recalibrate your body's hunger signals, rebalance your cravings, and comfortably and safely learn how to fast, Intuitive Fasting is a must-read. Dr Will Cole makes intermittent fasting accessible for everyone, encouraging vibrant health and wellness.' - Elle Macpherson ...Show more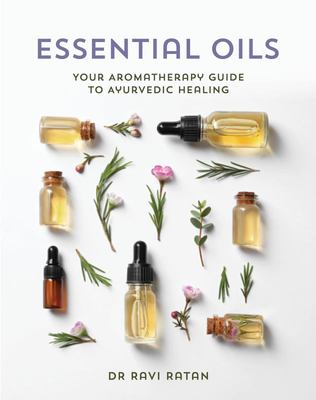 $39.99
AUD
Category: Health
Drawing on 28 years of experience, Dr. Ratan combines ancient Ayurvedic wisdom with modern aromatherapy principles in Vedic Aromatherapy, creating unique blends for holistic health and healing. This unique, beautifully illustrated guide explains the active ingredients, properties, and uses for over 90 r emarkable essential oils, and the ways they affect our physical and emotional well-being. Whether you're experienced in Ayurveda and aromatherapy or just beginning, Dr. Ratan will help you: - Understand the secrets of blends and applications, whether healing, relaxing, uplifting, or sensual - Choose the right base oils to enhance your blends - Discover chakra healing with essential oils - Find out 50 easy ways to use aromatherapy and essential oils - Learn aromatherapy and beauty therapy for every body part - Benefit from the wonders of evening primrose oil - Make feel-good fragrances for the body and home, including blending, aromatherapy massage, and steam inhalation, alongside natural beauty treatments ...Show more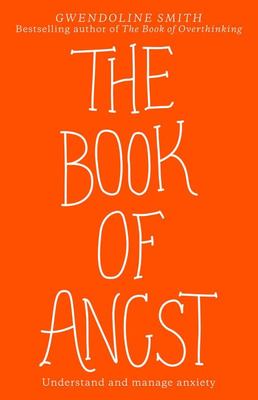 $22.99
AUD
Category: Health
From the author of international bestsellers The Book of Knowing and The Book of Overthinking.   There's a lot of angst around these days. This heightened sense of fear, concern, insecurity and uncertainty can be overwhelming. Bestselling author of The Book of Overthinking and The Book of Knowing Gwen doline Smith explains what angst is and the ways in which deep anxiety can manifest. Gwendoline then drills down into social anxiety, which is often underdiagnosed but is one of the most common of the anxiety family. Using simple, clear language and humorous illustrations, Gwendoline gives detailed step-by-step advice on how to cope.   ...Show more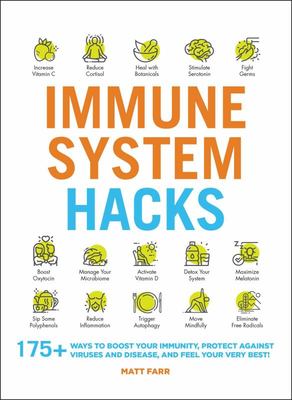 $29.99
AUD
Category: Health | Series: Hacks Ser.
Optimize your health with these 175+ quick, actionable ways to boost your immune system and beat the common cold every season.From taking a day off of work to stay in bed to having to run out to the store for last minute medicine that you were sure you had, no one enjoys being sick. But what if there we re quick and easy ways to boost your immune system so you could feel your best all year long? In Immune System Hacks discover over 175 practical steps you can use right away to boost your immune system and stay healthy throughout the year. These expert tips have everything you ever need to know about living your best, healthiest life, including: -Exercises that build and strengthen the immune system -Simple lifestyle choices that help guard against diseases -Environmental factors that affect the immune system -Immunity-boosting foods, vitamins, minerals, herbs, and supplements -The connection between gut health and the immune system -And more! Feel your best with the easy-to-follow advice in Immune System Hacks! ...Show more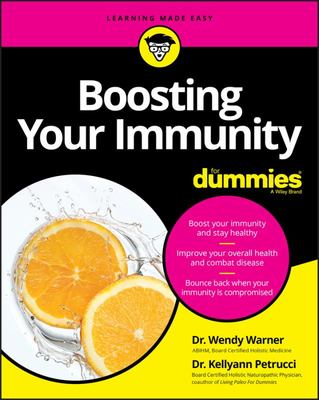 $37.95
AUD
Category: Health
Boost your body's defenses to fight-off disease and live stronger and longer Every single day our bodies are under attack from nasty little organisms which range from the pesky to the frighteningly serious. So, what's the best way to fight back? Thankfully nature has provided us with a powerful interior armor-plating--and Boosting Your Immunity For Dummies shows you how to keep that crucial biological gift in tip-top condition. Brought to you by bestselling author Kellyann Petrucci, MS, ND, a board-certified naturopathic physician, and Wendy Warner, a board certified holistic physician, --Boosting Your Immunity For Dummies sets out the sound ways we can supercharge our immune systems to prevent illnesses and diseases such as arthritis, autoimmune conditions, pneumonia, cancer, and the flu. Using a simple program of diet, exercise, stress-reduction, and nutritional supplements, we can keep our internal defenses humming happily along--and get generally healthier in the process The best nutritional strategies to avoid cold and flu 40+ recipes that show healthy eating can also be delish Cutting-edge research on immune-boosting health and diet Lists and tips for keeping a low-cost, healthy pantry Through diet, exercise, stress reduction, nutritional supplements, and the role of water, sunlight, and oxygen, you can harness the power of your immune system and drastically improve your immunity to disease. P.S. If you think this book seems familiar, you're probably right. The Dummies team updated the cover and design to give the book a fresh feel, but the content is the same as the previous release of Boosting Your Immunity For Dummies (9781118402009 find this on the copyright page). The book you see here shouldn't be considered a new or updated product. But if you're in the mood to learn something new, check out some of our other books. We're always writing about new topics ...Show more
$32.99
AUD
Category: Health
We're more connected, yet lonelier than ever - practical ways to combat the alarming rise of loneliness by bestselling author and social researcher, Maggie Hamilton. Practical solutions to combat social isolation in our families and communities.