$37.00
AUD
Category: DIY
The New improved and enlarged 8th Edition!! An all Australian guide with illustrations and text that bring itup to date with the latest methods applied across Australia.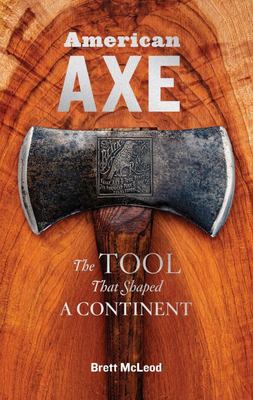 $37.99
AUD
Category: DIY
From bronze axes of the Viking conquests to the American homesteader's felling axe, this is a tool that has shaped human history like few others. American Axe pays tribute to this iconic instrument of settlement and industry, with rich history, stunning photography, and profiles of the most collectible vintage axes such as The Woodslasher, Keen Cutter, and True Temper Perfect. Combining his experiences as a forester, axe collector, and former competitive lumberjack, author Brett McLeod conveys the allure of this deceptively simple woodcutting implement and celebrates the resurging interest in its story and use. ...Show more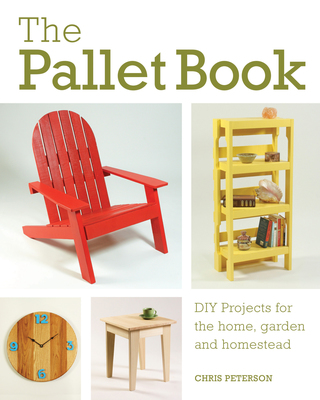 $27.99
AUD
Category: DIY
The Pallet Book is an inspiring and ingenious project-oriented book for the home DIY enthusiast! Author Chris Peterson presents everything the enterprising handyperson needs to know to reclaim and reuse pallets in innovative, useful ways. Just some of the projects included are: -A handy vertical planter -Coffee table -Spice rack -Serving tray -Compost bin -Dog house -Bookshelves -Wine bottle rack -Side table -Adirondack chair Some projects, like the raised bed, showcase the pallet. For others, like the kitchen island, you'd be hard-pressed to guess the wood was free! In addition to dozens of projects, the book includes a variety of pallet-specific knowledge. You'll find a guide with the basic skills and tools needed to rework pallets, information on where to find and source pallets, a guide to decoding pallet markings, and important pallet-related safety. ...Show more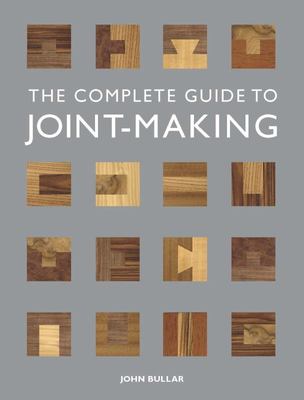 $34.99
AUD
Category: DIY
This no-nonsense guide to choosing and creating the best joint for all purposes features 35 types of joints. It includes detailed advice on the correct tools required for each joint and how to use them. It contains clear colour photographs with all techniques explained in jargon-free language. It comes from a UK author. This comprehensive and practical book demystifies the all-important subject of choosing, designing and cutting woodworking joints. Strong, appropriate and well-fitting joints are one of the hallmarks of the skilled woodworker. Making them properly requires intelligent planning, accurate marking out and a sufficient degree of care in the cutting, fitting and final assembly. A methodical approach is essential, and that is what this book provides. Professional woodworker John Bullar takes us through choosing the appropriate joint for the purpose to assembling finished pieces. We learn about timber selection, tools and adhesives, but above all we learn the working methods and habits that are needed to achieve consistently good results. The traditional hand techniques that are still the essential foundation of the woodworker's skill are fully explained. The section on machine-made joints covers every power tool needed for joints and how to get the best results from everything from a biscuit jointer and bandsaw to the router. ...Show more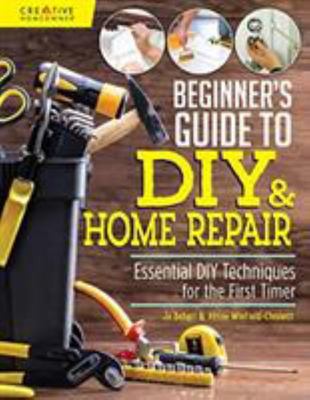 $26.99
AUD
Category: DIY
Start doing your own household repairs and simple renovations without the expense of calling in a professional If you are frustrated by your own inability to handle a repair, or resentful of having to pay someone to take care of simple home maintenance--you've come to the right place. Full of expert adv ice, this practical handbook features easy instructions for all the home DIY basics, from painting and wallpapering to simple plumbing, changing a lock, using power tools, fixing a squeaky board and much more. Beginner's Guide to DIY & Home Repair will provide first-time homeowners and renters with the basic skills and guidance to get the job done. This ultimate reference guide for the DIY novice offers help for anyone who has a busy working life but still wants to make their home look good--without spending a fortune. ...Show more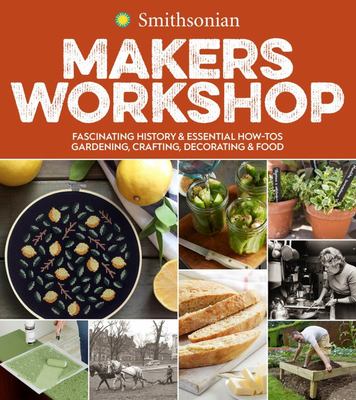 $54.99
AUD
Category: DIY
50 DIY crafts, cooking, decorating, and gardening projects from the experts at the Smithsonian Institution   The Smithsonian Institution presents a uniquely curated collection of lively how-to projects and historical narratives of four realms of American domestic arts: cooking, crafts, decorating, and gardening. Perfect for hobbyists interested in the historical context of what they create for their homes, this beautifully illustrated book contains fifty DIY projects--from a uniquely American quilt pattern to on-trend crafts like terrarium making and pickling--that all offer satisfying ways to bring history and culture to life. For those craving more, features provide rare insights from Smithsonian experts on prominent figures, events, and trends. Readers can learn about influential Americans who've had an impact on each realm; look at visual timelines of significant events that pushed development forward; or stay in the present and see how American arts in contemporary life is being redefined, all while enjoying satisfying and unique projects. ...Show more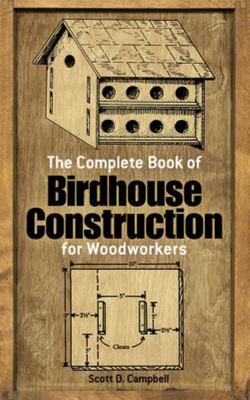 $15.99
AUD
Category: DIY | Series: Dover Woodworking Ser.
Here is a complete, down-to-the-last-detail guide for building attractive, sturdy, and genuinely inhabitable wooden birdhouses that will add a touch of natural beauty to garden, backyard, or anywhere else they are placed. Step-by-step instructions, clear diagrams, and many helpful illustrations and tabl es are included. All designs can be adapted to the use of simple hand tools ― saw, hammer, screwdriver ― making these projects ideal for woodworkers of all ages and levels of experience. Includes clear, easy-to-follow coverage for these topics: the selection of woods, helpful construction tips and techniques, hanging and supporting birdhouses, inspection and cleaning, proper placement, construction of pest guards, and much more.More than just a collection of projects, this complete guide shows not only how to construct birdhouses, but also how to insure that birds will actually be able to nest in them. It even shows how to attract specific species: bluebirds, doves, finches, swallows, and many others. Included is much valuable and practical information not found in the usual craft book: nesting requirements for each species, proper size of entrance holes, data on the habitats and behavior of particular types of birds, and more.The rewards and satisfaction of building your own well-designed, durable birdhouse make this book a welcome addition to the library of the experienced craftsman as well as beginning and intermediate woodworkers. ...Show more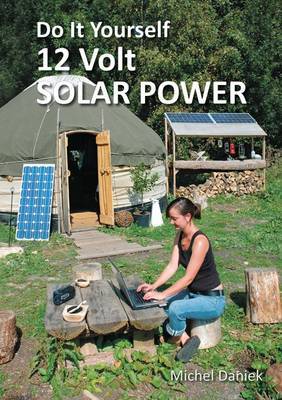 $23.95
AUD
Category: DIY | Series: Simple Living
If you want to introduce alternative power supplies around the home and garden or even live totally off-grid in your boat, caravan or yurt and need a practical introduction to solar power and 12 volt supplies, here is an essential guide to the subject. Not only will it save you money, it will show you h ow to run your lights, laptop, DVDs and music, and even your tools and household products, from a simple 12 volt system. Be in control of more of your home's own energy supply, develop a low impact way of living and be prepared for power cuts and for power down situations in the future! Do It Yourself 12 Volt Solar Power begins with a lesson in how electricity works and the main components of a DIY solar system. The author uses clear diagrams and terms. There is, of course, more technical information as the book progresses, but don't worry, this no-nonsense guide provides a useful, back-to-basics approach for the layperson. This is a reference book that will help you trouble-shoot and get the best value for money from what you can find hidden in the back of the garage. Quirky and humorous, it also shows you how to make a sun following system using just a bicycle wheel, a pallet and the motor from a CD player! ...Show more
$29.99
AUD
Category: DIY
This book is another in Allan Staines popular range of building books. His graphic and technical skills based on practical experience and the most recent technology will make this book a must for the professional and the Do-it-Yourselfer. This new edition includes all new tables plus deck construction i n bushfire localities. Includes industry tables for Designers and Architects easy to follow step-by-step building instructions and tradesmans methods and hints. ...Show more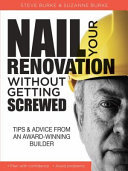 $34.99
AUD
Category: DIY
Nail your renovation without getting screwed has everything you need to think about before you get started on your home renovation and then while it's progressing. Learn from a professional builder and award-winning renovation specialist - Steve Burke - as he shares the tricks and traps to watch out for . The book includes invaluable advice on such topics as: how to make sure every step in your renovation is done in the right order; options for an environmentally sensitive renovation; checklists for kitchens, bathrooms and home extension projects; and how to avoid becoming a building horror story! With more than 20 years specialising in renovations, the authors have amassed a catalogue of stories and lessons learnt, met all sorts of interesting characters, and have discovered the many do's and don'ts of renovating homes. The book is also full of inspirational before and after photographs. ...Show more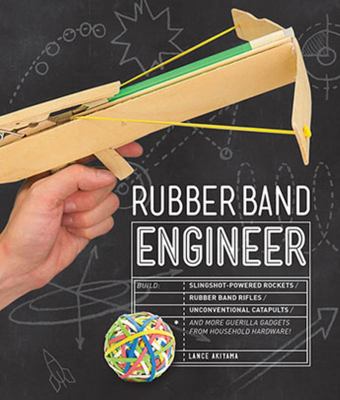 $29.99
AUD
Category: DIY
You don't have to be a genius to create these ingenious contraptions, you just need rubber bands, glue, paperclips, and Rubber Band Engineer, of course. Shooting far, flying high, and delivering way more exciting results than expected are the goals of the gadgets in Rubber Band Engineer. Discover unexpe cted ways to turn common materials into crafty contraptions that range from surprisingly simple to curiously complex. In vivid color photos, you'll be guided on how to create slingshot rockets, unique catapults, and even hydraulic-powered machines. Whether you build one or all 19 of these designs, you'll feel like an ingenious engineer when you're through. Best of all, you don't need to be an experienced tinkerer to make any of the projects All you need are household tools and materials, such as paper clips, pencils, paint stirrers, and ice pop sticks. Oh, and rubber bands. Lots of rubber bands. Grab your glue gun, pull out your pliers, track down your tape, and get started on the challenging, fun, and rewarding journey toward becoming a rubber band engineer. ...Show more
$35.00
AUD
Category: DIY
Survival Wisdom is practical guide, jam-packed with information on every aspect of outdoor life and adventure, from orienteering to campfire cooking to ice climbing and beyond. Culled from dozens of respected books from Stackpole, the industry's leader in outdoor adventure, this massive collection of wi lderness know-how leaves absolutely nothing to chance when it comes to surviving and thriving in the wilderness-and appreciating every minute of it.This new edition, with a smaller trim, includes all the must-have information from the original edition including topics like Building Outdoor Shelter, Tracking Animals, Winter Camping, Tying Knots, Orienteering, Reading the Weather, Identifying Edible Plants and Berries, Surviving in the Desert, Bird Watching, Fishing and Ice Fishing, Hunting and Trapping, Canoeing, Kayaking, and White Water Rafting, First Aid, Wild Animals, Cookery, and much more. The book includes useful illustrations and photos throughout make it easy use as well ascontributions by the experts at the National Outdoor Leadership School (NOLS) as well as the editors of Stackpole's Discover Nature series ...Show more